South Ayrshire schools kick start new session with Ayr United reading partnership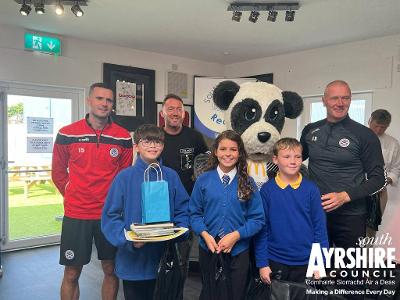 South Ayrshire Council's Educational Services team has joined forces with Ayr United Football Club to help local children and young people become confident readers.
As part of their 'South Ayrshire Reads' strategy, some of the club's players will become reading ambassadors. They will work with teachers and school staff to support pupils of all ages to develop their reading skills.
Players will visit schools across South Ayrshire, encouraging pupils to fall in love with reading.
Our South Ayrshire Reads team have been working hard behind the scenes to create the strategy and a Reading Resource Toolkit that staff and players will use to engage and motivate the youngsters.
The initiative will initially be piloted in eight 'Ambassador Schools', nominated by the Literacy Development team. Player visits will then be arranged for each of these schools.
South Ayrshire Council's Director of Educational Services - Lyndsay McRoberts said: "This is an exciting new reading initiative and I'm delighted that Ayr United Football Club have come on board with us. Their support will be invaluable and I'm sure our children and young people will look forward to their visits and enjoy reading with the players!
"I'd like to extend my thanks to all of our staff who have worked to develop this innovative strategy and also to everyone at Ayr United who have helped us to make this possible."
Graeme Mathie, Managing Director at Ayr United Football Club, said: "We are delighted to be supporting South Ayrshire Reads and are looking forward to engaging with all the schools who will take part in the first phase.
"In addition to having our players attend the ambassador schools over the next three years, we will also promote South Ayrshire Reads in our matchday programme and offer a book swap in our Club shop. We know how important this reading strategy is to the overall aims of the education department, and we are excited to play our part in developing this initiative"
The 'South Ayrshire Reads' strategy is available on our website www.south-ayrshire.gov.uk