Remembrance
Information on Remembrance services in South Ayrshire.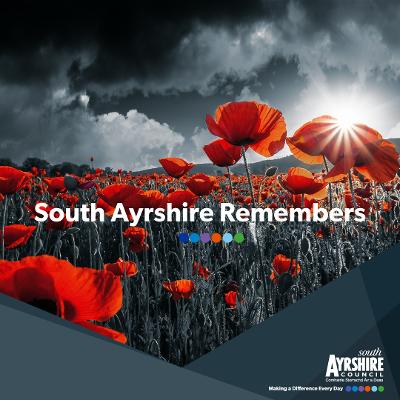 Remembrance is an opportunity to show our respect, honour and reflect on the sacrifices of all those who have served to protect our lives and freedoms throughout times of conflict. In the United Kingdom, Remembrance Sunday is the second Sunday in November, the Sunday nearest to 11 November (Remembrance Day), which is the anniversary of the Armistice that ended the hostilities of World War I in 1918 at 11am.
Due to the coronavirus (COVID-19) outbreak, the usual Remembrance commemorative events are unable to take place. In order to mark Remembrance this year, we have organised a range of virtual coverage throughout both Remembrance Sunday and Armistice Day across our social media channels. We also encourage you to take part in the two minute silence at 11.00am on Sunday 8 November, and Wednesday 11 November.
Poppyscotland have been working hard to ensure we can all access the national symbol of Remembrance and support the Scottish Poppy Appeal 2020. To allow for safe processing of donations, new technology has been made available to help you to support them, including contactless donations and on the Poppyscotland Virtual Field of Remembrance.
You can find all of our coverage on our social media channels below:
South Ayrshire Council Live Facebook: www.facebook.com/SouthAyrshireCouncil
South Ayrshire Council Live Instagram www.instagram.com/sac_live
South Ayrshire Council Twitter twitter.com/southayrshire
South Ayrshire Libraries Twitter twitter.com/salibraries
South Ayrshire Libraries Facebook www.facebook.com/salibraries
South Ayrshire Museums Twitter twitter.com/samuseums