Update on School closures, Tuesday 28 February & Wednesday 01 March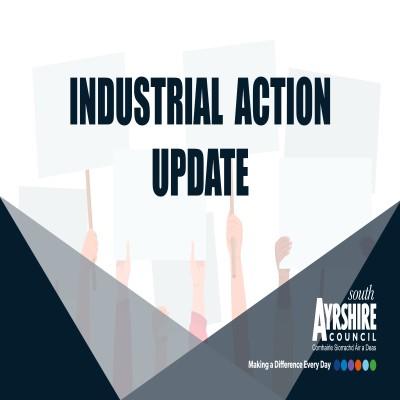 Update on School closures, Tuesday 28 February & Wednesday 01 March
All Early Years Centres Will Now Open
As a result of national industrial action, all South Ayrshire Council operated primary and secondary schools, along with Invergarven and Southcraig schools, will be closed to pupils on Tuesday 28 February & Wednesday 1 March.
The industrial action will not affect the operation of any South Ayrshire Council standalone or school based Early Years Centres which will all remain open. A list of these centres can be viewed below.
Any families with children that normally receive a means tested free school meal will be able to collect a packed lunch from their nearest primary school between 12:00 - 1:30pm on each strike day.
All schools will return to operating as normal on Thursday 02 March.
Alloway Nursery Class
Annbank Primary School Nursery Class
Ballantrae Primary School Nursery Class
Barassie Primary School Nursery Class
Barr Primary School Nursery Class
Barrhill Primary School Nursery Class
Braehead Primary School Nursery Class
Cairn Primary School Nursery Class
Cherry Tree Nursery
Colmonell Nursery Class
Coylton Primary School Nursery Class
Crosshill Primary School Nursery Class
Dailly Primary School Nursery Class
Doonfoot Primary School Nursery Class
Dundonald Primary School Nursery Class
Fisherton Primary School Nursery Class
Forehill Primary School Nursery Class
Gardenrose Primary School Nursery Class
Girvan Nursery School
Grammar PS Nursery Class
Heathfield Primary School Nursery Class
Kincaidston Primary School Nursery Class
Kingcase Primary School Nursery Class
Kirkmichael Nursery Class
Maidens Primary School Nursery Class
Monkton Primary School Nursery Class
Muirhead Primary School Nursery Class
Newton Primary School Nursery Class
Prestwick North EYC
Space Place
Straiton Primary School Nursery Class
Struthers Nursery Class
Symington Primary School Nursery Class
Tarbolton Nursery School
Troon Primary School Nursery Class
Wallacetown Nursery School