Public CCTV upgraded throughout South Ayrshire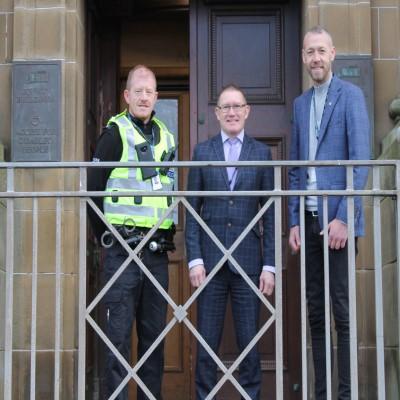 South Ayrshire Council has completed its ambition to upgrade outdated public space CCTV cameras in Ayr, Prestwick, Troon, Maybole and Girvan!
47 analogue cameras have been upgraded and are now state-of-the-art units boasting powerful 4K resolution and where required, wireless 4G connectivity.
Ten mobile cameras are also now available and can be moved to different communities and used at local events.
Council staff along with colleagues from Police Scotland will monitor the live footage. The police will also now have the ability to control the cameras remotely, rotating them and zooming in as required.
Councillor Martin Kilbride, Buildings, Housing and Environment Portfolio Holder for South Ayrshire Council said: "It's fantastic news that these cameras are now in place. All 82 public space CCTV cameras are now fully digital and provide excellent image quality. I am delighted that the live monitoring of the cameras has been reintroduced, this is a great example of partnership working."
Kenny Dalrymple, Assistant Director - Housing and Operations said: "This project is an important part of our South Ayrshire Way Strategic Change Programme which seeks to improve services and communities. I have no doubt these cameras will help tackle crime and anti-social behaviour. To the vast majority of people these cameras will be a reassuring presence."
Inspector Ian McCollfrom Police Scotland who have been involved throughout the project said:"We welcome the upgrade of the public space CCTV for South Ayrshire.
"It is a valuable asset in ensuring people feel safe within our communities and in assisting with police investigations into any incidents which do occur."
The cameras were installed by CCTV and surveillance systems specialists North, they will also maintain the cameras.