Council's support for much loved local theatre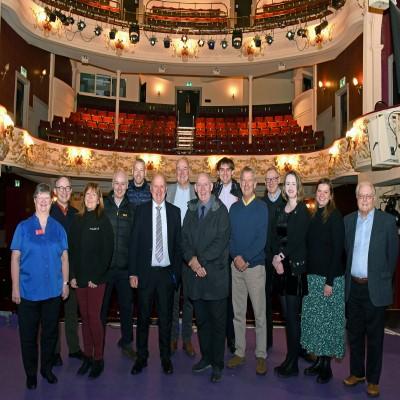 South Ayrshire Council will invest £150k in the Ayr Gaiety to help support the theatre's recovery from the impact of the COVID-19 pandemic.
The sum was agreed by Councillors at a recent Cabinet meeting and will be an essential contribution to the Ayr Gaiety Partnership (AGP).
Over the last four years, the Council has provided a total of £540k, ensuring the AGP could continue to operate.
As well as continuing to run the theatre, the AGP is committed to growing its community and outreach activity over the next few years.
The Council's support has been essential during what's been a very challenging time for the industry, however, the AGP are confident that they're in a position to secure some income from increased fundraising activities and other sources.
As part of ongoing performance monitoring, the AGP will continue to provide an annual report to the Council's Partnerships Panel.
The AGP have made a request for further financial assistance for 2023/24 and 2024/25, which will be considered as part of the Council's budget setting process.
Ayr Gaiety CEO, Jeremy Wyatt, said: "We welcome South Ayrshire Council's continued investment in The Gaiety. Since we reopened the theatre 10 years ago the Council has been an essential partner in our journey.
"For our part we continue to focus on delivering the best possible value for our community - today's five-star review in 'The Stage' for this year's pantomime, Sleeping Beauty, being a testament to our success in doing this.
"It's encouraging that we are again discussing the long-term future of the theatre within the Council's budget - a continuing and necessary investment into the arts and the partnership, as we emerge from the fraught times of the last two and a half years."
South Ayrshire Council's Portfolio Holder for Tourism, Culture and Rural Affairs, Councillor Alec Clark, said: "The Gaiety has been a pivotal part of our community for decades, so it's wonderful that the Council can provide this much needed financial support to ensure its continued existence.
"We have the AGP to thank for keeping us entertained with a fantastic range of productions and superb acts that attract both locals and tourists to Ayr.
"We look forward to our Destination South Ayrshire colleagues working with the Gaiety team to take things forward."
South Ayrshire Council's Portfolio Holder for Leisure and Sport, Councillor Brian Connolly, said: "Like many theatres and entertainment venues across the country, the Gaiety has faced a particularly tough few years due to the impact of COVID-19.
"The theatre is a key leisure attraction in South Ayrshire and I'm pleased that we've been able to continue to provide this assistance to the AGP."