South Ayrshire Remembers - Remembrance Day 2022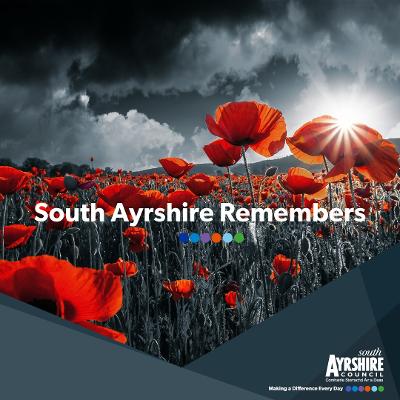 People across South Ayrshire are preparing to remember the valiant efforts of the men and women who have fought and lost their lives since the First World War.
The 11 November 1918 witnessed a significant event, the signing of the Armistice which signalled the end of four years of gruelling conflict during the First World War - the first industrial war in modern history. This year, we pay tribute to those who dutifully sacrificed themselves to protect our freedom more than 100 years ago, whilst also honouring those in the Armed Forces and emergency services who continue to serve and protect our communities.
South Ayrshire Provost, Iain Campbell said: "Remembrance is an incredibly important occasion, and we should never forget the sacrifices made by the generations who fought in previous conflicts. Although it's now over 100 years since the end of the First World War, we still remember and the great symbol of Remembrance, the poppy, plays a vital role in this.
"Each year, the 11th November is a pertinent reminder to us all of the large sacrifices our country has made for our freedoms and I'm pleased that post-covid we can participate in Remembrance services as we knew them."
Services of Remembrance will be held between Friday 11 November - Sunday 13 November 2022 across South Ayrshire. A full list of locations is outlined below.
Location

Date

Time

Troon

Sunday 13 November 2022

10.05am Parade musters at Troon Primary School; War Memorial

Prestwick

Sunday 13 November 2022

12.30pm - War Memorial

Ayr

Sunday 13 November 2022

10.00am - Dalmilling Church Service;

10.50am - War Memorial (Junction of

Low Road/Whitletts Road)

Ayr

Sunday 13 November 2022

10.50am - Church Service; 11.00am - St James, Tam's Brig, Ayr

Ayr

Sunday 13 November 2022

12.15pm - Cenotaph, Wellington Square

Alloway

Sunday 13 November 2022

11.15am Church Service; 12.30 - War Memorial

Tarbolton

Sunday 13 November 2022

10.00am - Church Service; 11.00am - War Memorial

Mossblown

Sunday 13 November 2022

11.20am - War Memorial; Church Service

Loans

Sunday 13 November 2022

11.00am - War Memorial

Dundonald

Sunday 13 November 2022

10.30am - War Memorial

Monkton

Sunday 13 November 2022

10.50 - War Memorial

Symington

Sunday 13 November 2022

10.15am - War Memorial

Craigie

Sunday 13 November 2022

8.45am - War Memorial

Crosshill

Sunday 13 November 2022

12 noon - Church Service; 1.00pm - War Memorial

Maybole

Sunday 13 November 2022

10.00am - Church Service; 11.00am - War Memorial

Coylton

Sunday 13 November 2022

10.00am - Church; War Memorial

Minishant

Sunday 13 November 2022

1.30pm - War Memorial

Kirkmichael

Sunday 13 November 2022

10.30am - Church Service; 11.20am - War Memorial

Kirkoswald

Sunday 13 November 2022

11.15am - Church Service; 12.30pm - War Memorial

Dunure and Fisherton

Sunday 13 November 2022

9.45am - Church Service; 1.00pm - Fisherton Cemetery

Straiton

Sunday 13 November 2022

12 noon - Church Service; 12.50pm - War Memorial

Dailly

Sunday 13 November 2022

10.50am - Church Service; 11.45am War Memorial

Girvan

Sunday 13 November 2022

10.00am - War Memorial

Colmonell

Sunday 13 November 2022

9.30am - War Memorial

Colmonell Kirk

Sunday 13 November 2022

10.00am

Ballantrae

Sunday 13 November 2022

11.30am - Church Service; 12.30pm - War Memorial

Barr

Sunday 13 November 2022

10.00am - Church; 10.45am - War Memorial

Barrhill

Sunday 13 November 2022

3.00pm - War Memorial

Pinwherry

Friday 11 November 2022

11.00am - War Memorial