BonfireWatch 2022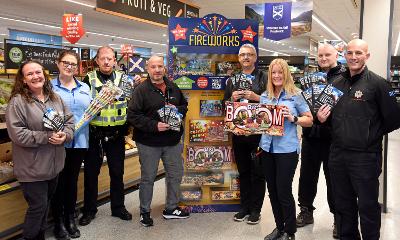 BonfireWatch is a multi-agency initiative co-ordinated by the South Ayrshire Community Safety Partnership Safer Places Joint Action Group which includes Police Scotland; Scottish Fire and Rescue (SFRS); South Ayrshire Council's Thriving Communities Officers; South Ayrshire Council's Trading Standards and Waste Management teams; and Portland Janitorial.
Established in 2008, the campaign aims to help local communities to have fun whilst staying safe around firework and bonfire displays. By removing illegal bonfires, the chances of injury, damage to properties and the likelihood of antisocial behaviour reduces significantly.
As a result of the effective partnership, the Scottish Fire and Rescue Service received six calls in 2021 which required action in relation to bonfires, saving a total of £57,130 compared to the cost in 2008 for the SFRS to attend an outdoor secondary non-deliberate fire*.
This year, the partnership is tackling the issues of fireworks and illegal bonfires by advising the public to attend public displays, in a bid to deter private displays in gardens and local areas. Trading Standards officers are also visiting local premises to discuss fireworks sales and legislation to help reduce illegal purchases.
Residents are encouraged to contact the South Ayrshire Council's Community Safety team on 0300 123 0900 in the event that waste is gathered in a public space for the intention of a bonfire, to allow for its safe removal.
Councillor Martin Kilbride, South Ayrshire Council's Portfolio Holder for Buildings, Housing and Environment said: "Every year, the emergency services are called out to a high number of incidents across Scotland as a result of illegal fireworks and/or bonfire displays. It's important for everyone to be able to enjoy this time of year safely, which is why it's advised to attend public displays that are visually captivating and operated by professionals.
"The BonfireWatch initiative has played a vital part in helping to reduce the number of accidents and reports of antisocial behaviour during this period across South Ayrshire, which in turn enables the emergency services to use their resources to continue helping those in need within our communities."
* Based on the preventative spend toolkit produced by the Scottish Community Safety Network the average cost to the Fire Service for attending an outdoor secondary non-deliberate fire is £1970.