Provost Attends Poppyscotland 2022 Poppy Appeal Reception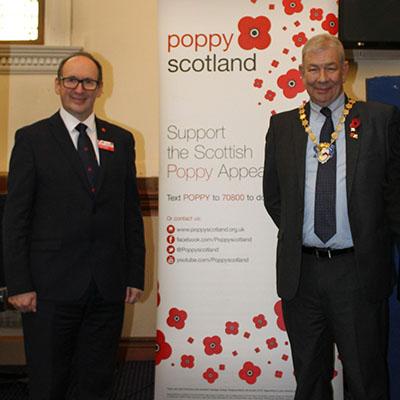 South Ayrshire Provost Iain Campbell attended Poppyscotland's Poppy Appeal Reception in Ayr Town Hall on Friday 28 October.
The reception celebrated the launch of the 2022 Poppy Appeal, and the Provost welcomed guests with a speech.
Poppyscotland provide support for members of the Armed Forces through fundraising, mainly through public donation. In the previous year, Poppyscotland supported more than 5,500 veterans. Around half of the charity's income comes from the Scottish Poppy Appeal, and in 2021 the Scottish Poppy Appeal succeeded in raising £2.3 million.
Each year the Lady Haig poppy factory, which employs a team of 35 veterans with a range of disabilities, produce around 3 million poppies and 15,000 wreaths.
Provost Iain Campbell said: "It's important that we continue to do all we can to support the men and women who have served in the Armed Forces and their families.
"At this time of year, we always remember those that have made the ultimate sacrifice for our country. Their efforts should never be forgotten."
Provost Campbell is pictured with Poppyscotland President, Rear Admiral (rtd) Mark Beverstock BSc(Eng) CEng FIEE CCMI CMgr.