Marr College Achieves 'Microsoft Showcase' Status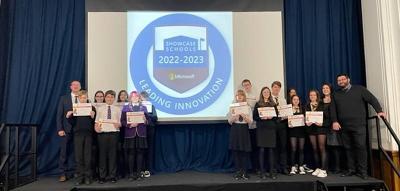 Marr College in Troon has officially been designated a 'Microsoft Showcase' school, following their successful involvement in the Microsoft Incubator programme.
The award makes them only the fifth school in Scotland to receive this status and recognises their strengths in digital technology to support learning and teaching. Last year there were only 6 secondary schools in the whole of the UK given Microsoft Showcase School status.
The Microsoft Showcase Schools Program is an opportunity to engage with Microsoft and like-minded school leaders around the world to deepen and expand education transformation.
Head Teacher of Marr College, George Docherty, alongside teachers Sarah Wyllie, Alan Simpson, and a number of pupils have been the driving force behind the work, and are now members of the Global Teams group where they can interact with other Showcase Schools around the world. Marr College also achieved the Digital Schools Award in recognition of the school's digital transformation over recent years.
Councillor Stephen Ferry, South Ayrshire Council's Portfolio Holder for Education said: "I'm delighted that Marr College have been named a Microsoft Showcase School.
"Digital technology plays an increasingly important role in education, and staff and pupils can now share best practise and help shape the vision of schools and students around the world. I'd like to congratulate everyone involved and I'm very proud of this achievement."