Provost Attends Ayrshire Fiddle Orchestra Concert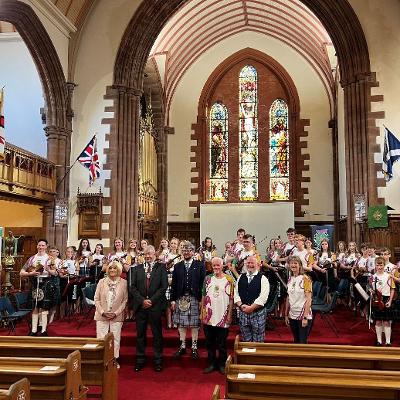 Provost Iain Campbell and Depute Provost Mary Kilpatrick attended the Ayrshire Fiddle Orchestra's concert at the Troon Old Parish Church on Friday 19 August. This event marked the opening of the orchestra's 40-hour "playathon" to celebrate their 40-year anniversary.
The Ayrshire Fiddle Orchestra is a group of young people dedicated to keeping Scottish musical traditional alive. The orchestra was formed August 1982 by Wallace and Lex Galbraith, both string instrument tutors in Ayrshire looking to encourage an interest amongst young people.
Ayrshire Fiddle Orchestra celebrated this milestone by hosting a number of free concerts over the weekend to showcase the talent of their current and former members. The weekend's events, including a ceilidh on Friday night, helped contribute to raising funds for their upcoming Southern States Tour in the USA in 2023.