Colmonell becomes South Ayrshire's next 'Biosphere Community'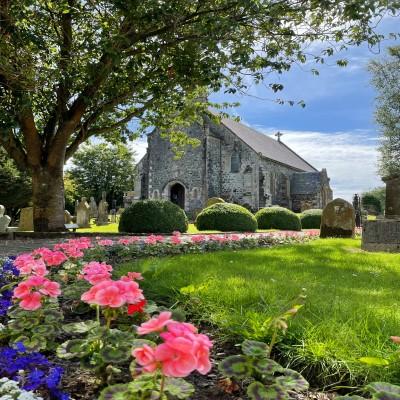 The historic conservation village of Colmonell has become a Biosphere Community, the seventh to be designated within Galloway and Southern Ayrshire UNESCO Biosphere and the second in South Ayrshire.
The United Nations Educational, Scientific and Cultural Organisation makes its awards in recognition of attributes which are unique and of global importance, and Galloway and Southern Ayrshire was designated a 'UNESCO Biosphere' in 2012. The organisation's remit includes conservation, education, sustainable development and climate resilience, with a strong focus on creating multi-sector partnerships that support more sustainable communities.
The Biosphere Communities scheme invites residents to explore what is special about their locality: those aspects of heritage and cultural identity that most inspire community pride. The Biosphere leads a Sense of Place workshop in which residents share local legends, favourite places, and thoughts on what makes their village or town unique. Following Colmonell's workshop, residents produced text and photographs for a webpage dedicated to Colmonell which is now live on gsabiosphere.org.uk. Collectively, the village has become a member of the Biosphere's Proud Supporter scheme, reflecting their commitment to taking positive action to help people and planet. Meanwhile businesses in Colmonell can benefit from their connection with Scotland's UNESCO Trail, an international marketing campaign which takes visitors on a journey across Scotland's UNESCO sites, prioritising slow and sustainable tourism. Biosphere Communities are promoted on the trail as places where visitors can enjoy an authentic rural experience and immerse themselves in 'Biosphere life'.
As the relationship between village and Biosphere continues to grow, residents of Colmonell will be able to call on 'Team GSAB' to help develop community initiatives and promote special events.
Jenna Cains, Community & Education Lead Officer, said,"Colmonell truly is the 'wee village with a big heart', and sits in a landscape that represents the very essence of our world class UNESCO designation. It's always our privilege to be invited to participate in community life in the way we are through the Biosphere Communities scheme - as an organisation we learn more about what's important to local people and where the Biosphere can offer future support."
Councillor Alec Clark, Cabinet Member for Tourism and Rural Affairs who represents South Ayrshire Council on the UNESCO Galloway and Southern Ayrshire Biosphere Board said:"The beautiful South Ayrshire village of Colmonell sits nestled in the Stinchar Valley about 12 miles south of Girvan on the historic Whithorn Way and probably takes it`s name from St Colmon as the Church of St Colmon is part of the village. There are three ruined castles which add to the landscape and an active and proud village population. Given these factors and many more, it's no surprise that it fits the criteria to become a Unesco Galloway and Southern Ayrshire Biosphere village. It is a title that it truly deserves " .
For more information about the scheme or about Galloway & Southern Ayrshire UNESCO Biosphere please contact info@gsabiosphere.org.uk