Dundonald modular homes project supporting military veterans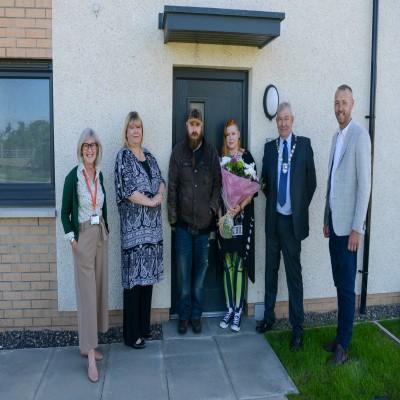 Riverside Scotland welcomed South Ayrshire Provost Iain Campbell, Councillor Martin Kilbride, Buildings, Housing and Environment Portfolio Holder for South Ayrshire Council, and Councillor Julie Dettbarn, Local Councillor for the Kyle Ward to Scotland's first large-scale affordable modular housing development on 1 August 2022.
The 63-unit development in the village of Dundonald, South Ayrshire is Riverside Scotland's first development in South Ayrshire.
The Councillors were given a tour of the development by Riverside Scotland's managing director Diana MacLean, including an overview of the modular construction process where construction waste is up to 85% less than on traditional sites. The Councillors also found out that up to 67% less energy is required to produce a modular building.
The homes are built off-site by modular construction specialist Connect Modular Ltd, using an innovative and sustainable modular construction method. The pioneering use of off-site technology makes a real difference in lowering the environmental impact of the construction process. Energy consumption, building running costs and overall energy efficiency levels are substantially improved.
Modules are completed to ceiling height - with kitchens, bathrooms, plumbing and electrics all installed before leaving the factory.
The first modules were craned into position in June 2020, and the development is on track for completion this autumn.
Over the past six months Riverside Scotland has allocated 26 properties within the development, including nine military veteran households.
Riverside Scotland has made a strong commitment to providing homes for veterans at risk of homelessness by allocating more than 10% of new homes to support veteran households.
The organisation has a Service Level Agreement in place with Veterans First Point/NHS Ayrshire and Arran to ensure that veterans are fully supported in their tenancies, and in the transition to civilian life after service in the armed forces. The partnership provides a much-needed combination of secure and suitable housing, alongside support to address any mental, physical, emotional, and tenancy related needs for veterans and their families, for as long as it is needed.
The Councillors had the opportunity to meet some military veteran residents who shared their stories of how their lives have been transformed.
Nathan and Lauren Cairns were on the waiting list for seven years and moved into a three-bed house at Dundonald in January this year. Lauren said, "Nathan served in the infantry and on leaving the army we were faced with the difficulty of finding a permanent home. We moved into a small two-bedroom top floor flat. Our son and daughter were sharing a room and we didn't have any outdoor space. We couldn't even open the windows fully.
"We were absolutely thrilled when we were allocated a new modular home. We've been here six months and it's safe to say it has improved and transformed all aspects of our life significantly. It's so much more peaceful than the flat, the kids love playing in the garden and we know they are safe. Our home is so light and spacious - such a contrast to before. It's given Nathan a chance to breathe and we are enjoying the lovely countryside views - we absolutely love it!
"We really appreciate the support from Riverside Scotland, South Ayrshire Council and Veterans First Point in getting us to our happy place."
Provost Campbell who is also Veterans Champion for South Ayrshire Council said, "It was fantastic to look round the development and meet some of the veterans. It can be difficult to adjust to life outside the Armed Forces, the importance of being able to access suitable accommodation is hugely important. This development ticks all the boxes and is helping these families put down roots."
With housing and environment under his remit Cllr Kilbride has closely followed the modular development's progress and was delighted to meet new residents. "Modular housing has the potential to be a game changer, and I am delighted that South Ayrshire is leading the way in Scotland. Having the units preassembled is much more sustainable and reduces construction waste by a staggering amount. Modular housing adds another construction option for delivering more affordable homes in South Ayrshire and we're keen to explore other areas where this process could be used."
Diana MacLean, managing director of Riverside Scotland said, "We are thrilled to welcome the Provost and Councillors to Kilmarnock Road and proud to show off this sector-leading modular development, which has truly raised the profile of off-site construction in Scotland as well as meeting housing and environmental targets.
"With over 13% of homes on the development allocated to military veterans and another signing up this month, Dundonald is a truly unique project providing suitable accommodation and support to veteran families. It is evident that there is a demand for services like ours and the Cairns family is a shining example of just how effective it can be in transforming lives. However, we won't rest on our laurels. We are already exploring options to enhance our service provision for veterans going forward.
"It has been a pleasure to work with South Ayrshire Council to allocate these homes and we are proud that this innovative development is tackling the housing crisis at speed and scale, whilst addressing climate change and homelessness amongst veterans."