The Holy Fair is set to return in June!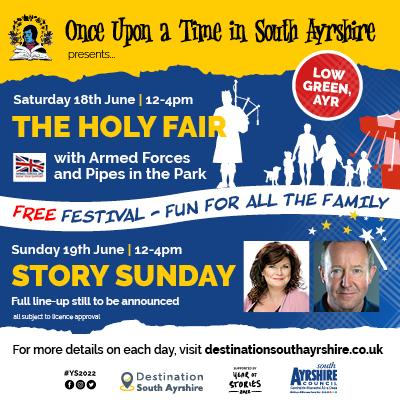 South Ayrshire Council is delighted to announce that the Holy Fair with Armed Forces and Pipes in the Park will make a spectacular return in June this year, with an additional day of storytelling fun in celebration of Scotland's Year of Stories 2022.
The hugely popular family fun day has not run since 2019 due to the COVID-19 pandemic, however this year, with support from EventScotland, it's set to be better than ever with a jam-packed two-day programme of events that everyone can enjoy.
Children, young people and families can enjoy fairground rides; a pipe band; a highland dance contest and dance arena; flag raising ceremony; market and charity stalls; crazy golf; military attractions and even a children's fun dog show on Saturday 18 June, to name a few!
In celebration of Scotland's Year of Stories and as part of our Once Upon a Time in South Ayrshire programme of events, 'Story Sunday' will take place on Sunday 19 June, with an exciting array of events for the whole family, exploring Scotland's people and places. Two main areas will provide activities such as arts and crafts; musical sessions; story telling; and a fancy-dress parade. Tent talks, a new addition for 2022, will see speakers including Scottish comedians Elaine C. Smith and Jonathan Watson covering a variety of interesting topics including food, tv, sport and music. More speakers will be announced in due course.
If you'd like to get involved in this fantastic event, visit the Low Green in Ayr on Saturday 18 and Sunday 19 June between 12:00pm - 4:00pm.
South Ayrshire Council's Chief Executive, Eileen Howat said: "I'm really pleased that the Holy Fair is returning in 2022. The event has been running for over 30 years and is always a huge success with residents and visitors.
"This year is set to be the best yet with a huge variety of activities over two days, suitable for all ages. The event is also a great opportunity to support our Armed Forces as well as cadets, service families and veterans, and will bring a welcome boost to South Ayrshire's economy."
Gordon Smith, Regional Director at VisitScotland said: "We are delighted to be supporting Holy Fair and Story Sunday as part of Scotland's Year of Stories 2022. The extra day of storytelling, family activities and guest speakers will be a draw for locals and visitors alike as part of the year-long Once Upon a Time in South Ayrshire programme."
More information can be found by visiting www.destinationsouthayrshire.co.uk