South Ayrshire Council partners with Shout to provide free mental health text service for residents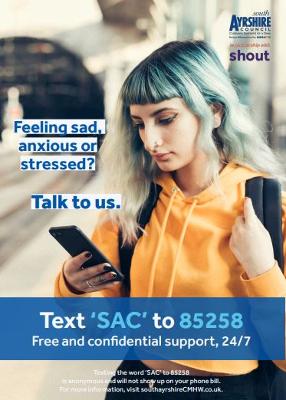 South Ayrshire Council have partnered with 'Shout', a service powered by charity Mental Health Innovations, to provide residents with free access to mental health support by text message.
Anyone in South Ayrshire can text the word 'SAC' to 85258 to be connected to a trained volunteer who can help with issues such as anxiety, stress, depression, loneliness, bullying, money worries or relationship problems.
Volunteers are available 24/7 for moments when life gets overwhelming and people need immediate support. There's no charge to use the service, it won't appear on a mobile bill and requires no app, data, password or registration. You can send a text message any time of day or night, wherever you happen to be in the UK.
Eileen Howat, Chief Executive of South Ayrshire Council, said: "It's more important than ever that people look after their mental health and wellbeing, especially following the events of the last two years.
"We want everyone in South Ayrshire to grow well, live well, and age well, and I'm delighted that we can now offer this service to our residents. I hope it makes a difference to those who need it most."
You can find out more about Shout by visiting: www.giveusashout.org
Published 01 April 2022