Once Upon a Time in South Ayrshire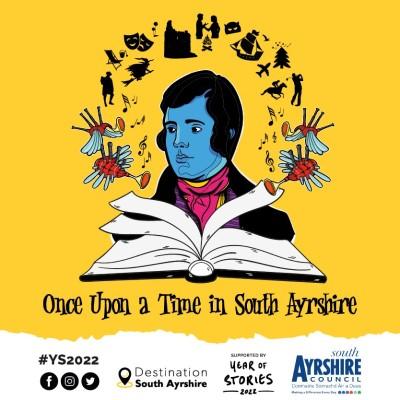 Once Upon a Time in South Ayrshire celebrates Robert Burns and South Ayrshire's storytelling heritage in a year-long programme of events as part of Scotland's Year of Stories 2022.
South Ayrshire Council is delighted to launch this programme of events, exhibitions, and experiences with something for everyone to enjoy. Once Upon a Time in South Ayrshire launches in line with National Story Telling Week and will run until December 2022 with support from EventScotland.
January is the perfect month to start to tell South Ayrshire's tale, as Scotland remembers one of the greatest story tellers who has ever lived ­­- Robert Burns.
Burns was born 25 January 1759, and many of South Ayrshire's myths and legends are reflected in his stories, but he also fought for social justice and encouraged people to help one another. It's these qualities that are celebrated through the Robert Burns Humanitarian Award (RBHA). Every January as part of the RBHA, we tell the stories of inspirational people who help others. This year, the globally respected award was won by Dr Digambar Narzary who is tackling human trafficking in north east India.
Next up in our tales of South Ayrshire will be the launch of a walking tour with a difference, running from 23 February until the end of the year. Shadows of the past...Ayr's Myths, Legends & History is a thought-provoking self-led tour which explores the story of Ayr, unearthing fascinating tales of heritage, the macabre and fun! Audiences will be encouraged to explore the landscapes and myths that inspired Robert Burns at iconic locations including Brig o' Doon and Alloway Auld Kirk.
Many more events across the year are still to be revealed, but Once Upon a Time in South Ayrshire will include campfire stories; character trails; family fun days; and festive delights. More announcements will follow soon.
Councillor Chris Cullen, Economy and Culture Portfolio Holder for South Ayrshire Council said: "With our abundance of folklore and history, where better to kickstart Scotland's Year of Stories 2022, than the Birthplace of Scotland's Bard. Retelling our myths and legends is a great way to connect with our heritage, and hopefully this year there will be more opportunities to come together to celebrate the past, present, and future of South Ayrshire. Be sure to keep an eye out for more of the exciting events laid out in chapters of our storytelling book."
Paul Bush OBE, VisitScotland's Director of Events said: "We are delighted to be supporting Once Upon a Time in South Ayrshire as part of Scotland's Year of Stories 2022. From icons of literature to local tales, Scotland's Year of Stories encourages locals and visitors to experience a diversity of voices, take part in events and explore the places, people and cultures connected to all forms of our stories, past and present. Scotland is the perfect stage for events and Once Upon a Time in South Ayrshire's celebratory programme of events and activities will showcase the region's storytelling heritage."
To find out what's happening and when visit https://destinationsouthayrshire.co.uk/stories/