Free Taster Course Offers Chance to Explore Career in Aerospace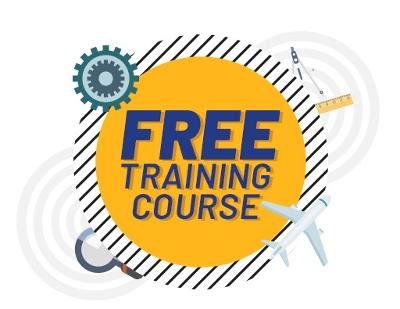 Unemployed people and those under threat of redundancy are being invited to try an introductory course in aerospace, to help decide if a future career in the industry is for them.
The first Aerospace Taster Course takes place from Monday 24th - Friday 29th January (9am - 4pm) at the Skypath Aero Training Centre, beside Prestwick Airport. It is being offered free of charge to people over 25, with plans to run one course every month throughout 2022, depending on demand.
Trainees will have the chance to meet local aviation industry leaders, tour an aircraft maintenance hangar, try out some practical skills and discover common operations carried out in aircraft decommissioning - the process of carefully disassembling an ageing aircraft and making its components available for reuse in another market - where there is currently an increasing demand for people with the right skills. Trainees will also complete a 1 day Emergency First Aid course, after which they'll receive a First Aid Industry Body qualification, with a certificate valid for three years.
The Skypath Aero Training Centre and its courses have been established through a training partnership between Ayrshire College, the University of Strathclyde, Chevron Aircraft Maintenance, South Ayrshire Council and National Manufacturing Institute Scotland. Training is delivered by lecturers from Ayrshire College, supported by Chevron - a key employer in the local aerospace sector.
Councillor Peter Henderson, Leader of South Ayrshire Council said: "The Skypath Aero Training Centre is an excellent example of our Economy and Regeneration team collaborating with local industry and education providers to help local people embark on a path to develop new skills, find employment and enjoy a better quality of life - all of which are central to our Strategic Economic Plan: Vision 2030.
"With Prestwick Aerospace set to expand significantly over the coming years, following the £80million investment from the Ayrshire Growth Deal and the development of projects such as the new spaceport, aerospace is a great career choice locally."
Mike Stewart, Director at Chevron Aircraft Maintenance, said: "This new taster course is a great opportunity for people without any previous experience in aerospace and who have perhaps never even considered a career in the industry before. Over the five days, they'll receive a real insight into what it would be like, spending some of the time onsite in a simulated hangar environment and carrying out practical tasks on real aircraft components. Chevron Aircraft Maintenance is delighted to be involved in this course and help local people discover a new future."
The Aerospace Taster Course is funded by the Scottish Funding Council through the National Transition Training Fund (NTTF). As well as being free to all participants, there is also the possibility of support for travel. Places for the course starting on 24th January are being allocated on a first come, first served basis.
To register for the course please email training@sky-path.org or to find out more, visit https://sky-path.org/skypath-aero-training-centre/
Published 14 January 2022