Ayr Grammar Primary School Wins Award from Glasgow Institute of Architects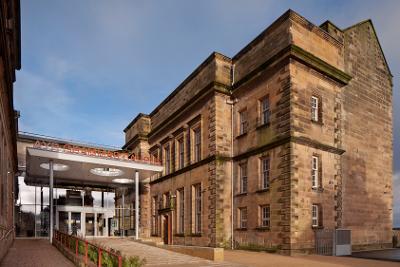 South Ayrshire Council is delighted to announce that the new Ayr Grammar Primary School has won the 'Award for Conservation' from the Glasgow Institute of Architects (GIA).
The GIA Design Awards are open to buildings completed in the UK and Ireland by architects based in the West of Scotland.
The school moved to the iconic Ayr Academy building last year, following an extensive programme of works to transform the historic structure into an inspiring, modern facility.
Designed by BDP Architects, the new school boasts facilities for more than 400 pupils; an early years centre; community facilities; and South Ayrshire's Archive Centre.
The award was presented at a ceremony last week where judges praised the school in their assessment, saying: "Rather than let this fine building languish, or redevelop for residential or commercial use, South Ayrshire Council seized a fantastic opportunity to create a new community focused development that allowed them to preserve the original use on the site, and expand the offer to the wider community."
Councillor William Grant, South Ayrshire Council's Portfolio Holder for Children and Young People said: "I'm delighted that the judging panel recognised the fantastic facilities that the new Ayr Grammar Primary School provides, and selected us as winners for this prestigious award.
"We're committed to ensuring all young people in South Ayrshire get the best possible start in life, and part of this is providing vibrant and engaging places to learn.
"Ayr Academy has been a local landmark on Fort Street for generations and the new Ayr Grammar Primary School has secured the long-term future for this much-loved building."