South Ayrshire Remembers - Remembrance Day 2021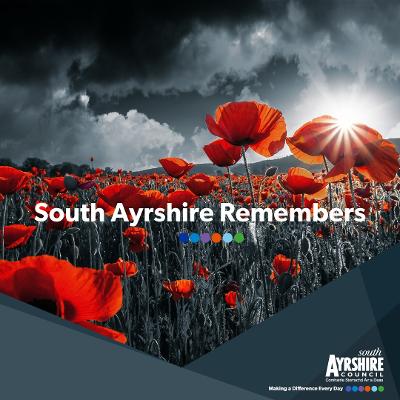 Today, 11 November 2021, we are observing Remembrance Day, a significant event in history which saw Allied Forces and Germany sign the Armistice and declaring the end of the First World War on 11 November 1918.
This annual tradition provides an opportunity to honour the valiant efforts of those who fought during the First World War, pay tribute to the thousands of veterans who have been involved in conflicts since 1918, and those who continue to protect our communities by serving in the Armed Forces and emergency services.
This year, Services of Remembrance will be held on Sunday 14 November as follows:
• Carrick Centre, Maybole - 10.00am;
• Girvan - March from Ailsa Street East to the War Memorial - 10.00am;
• The Esplanade, South Beach, Troon - 10.45am;
• Wellington Square, Ayr - 12.15pm;
• The Cross, Prestwick - 12.30pm.
South Ayrshire Provost, Helen Moonie said: "I am pleased that we are able to come together across South Ayrshire this year in order to commemorate Remembrance Day.
"Despite being an annual tradition, the importance of the occasion grows each year. It is worthy that we reflect on the bravery and sacrifices of those who have served their country. The continuing work of the Commonwealth and allied nations as they continue to protect our freedom is also remembered at this time.
"On Remembrance Day 2021, Lest We Forget."
We will also commemorate Remembrance across our social media channels Facebook and Twitter.
Published 11 November 2021.