Galloway and Southern Ayrshire UNESCO Biosphere is putting the 'oo' back into local wool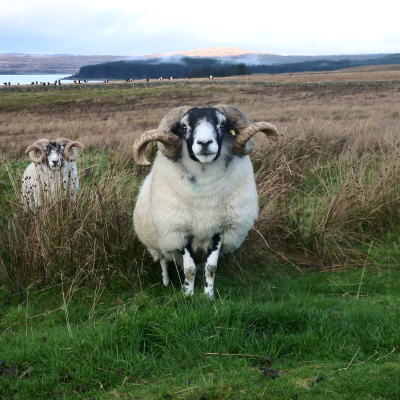 An exciting new project is underway across south-west Scotland as Galloway and Southern Ayrshire UNESCO Biosphere launches The Wool Gathering, a group to unite farmers and flock owners with the makers and creators who use the wool they produce.
The plummeting value of wool has been a feature of rural news in recent months, drawing attention to the financial stress on farmers already dealing with the impacts of Brexit and Covid-19. From being regarded as useful and marketable resource only one or two generations ago, wool is increasingly a low value by-product of sheep farming with a significant proportion disposed of as waste.
Galloway and Southern Ayrshire UNESCO Biosphere leads on sustainability initiatives across three local authority areas and is part of the region's drive to achieve ambitious Net Zero goals. The versatility of wool offers 'green potential' that is yet to be fully explored, from carbon-storing carpets and clothes to new uses by enterprising creatives: The Wool Gathering's preliminary research has already turned up one business which uses Scottish wool to make yoga mats.
The Wool Gathering has drawn the interest of multi-sector partners including NFUS, South of Scotland Enterprise, and local art and craft development organisation Upland. The group will focus on 'Biosphere wool' including from Blackface sheep which are so closely associated with the hills of south-west Scotland. While their wool has been historically regarded as unsuitable for garments, the Biosphere is keen to research its potential for knitted outdoor clothing and the breed could enjoy something of a rebrand if the project's ambitions are achieved. The Wool Gathering is currently in discussion with the British Wool Marketing Board about how to maintain the farm provenance of Blackface wool from sheep to finished product, and has launched two surveys to gather the opinions and expertise of people who are already producing or working with wool in East Ayrshire, South Ayrshire, and Dumfries and Galloway.
Dr Joan Mitchell, Chair of the Biosphere's Partnership Board and founder member of The Wool Gathering, commented: "Our aim is to add value to local wool, for the benefit of everyone involved in the chain of supply. The wool industry is a key part of south-west Scotland's natural and cultural heritage and is something to be celebrated. We are confident that with the cooperation of the British Wool Marketing Board, local sheep breeders and wool users we can restore the links in the supply chain. It's something we can build on and improve for the benefit of the local economy and for future generations of farmers."
South Ayrshire Councillor Alec Clark, who is also a member of the Biosphere Partnership Board, said: "Wool is an undervalued natural product that easily translates into top quality and fashionable clothing. There can be no better quality and environmentally friendly wool than that which is sourced from sheep reared in the rich landscapes of the Galloway and Southern Ayrshire Biosphere."
The Wool Gathering has launched as a public group on Facebook (www.facebook.com/groups/gsabwool) and welcomes new members. Their wool producer and maker surveys are accessible via The Wool Gathering on Facebook, or by email request to info@gsabiosphere.org.uk.