New signage celebrates Biosphere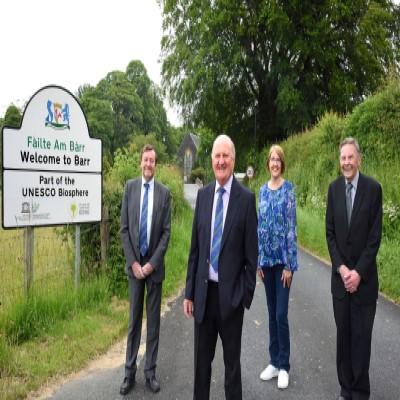 New signs are going up in towns and villages across Southern Ayrshire to promote the UNESCO Biosphere.
The Galloway and Southern Ayrshire UNESCO Biosphere was awarded in 2012 in recognition of the landscapes, wildlife, culture and heritage that make South West Scotland so special.
With the 10-year anniversary of the Biosphere approaching, South Ayrshire Council worked with the Ayrshire Roads Alliance and the Biosphere team, UK Commission to UNESCO to design and install the signs which identify villages and towns that are in the Biosphere.
South Ayrshire Councillor, Alec Clark, has been a member of the Biosphere Partnership Board for the last three and half years, he said: "With many of us looking to staycation this year, it's the perfect time to celebrate the fact that our communities sit within an area which has been recognised internationally.
"The new signs help to highlight the relationship between this unique landscape and the people that live on it and work with it. Protecting the Biosphere is always at the forefront of our minds, with farmers and others that make a living from the land acting as Biosphere custodians, safeguarding wildlife and tackling the climate crisis at the same time.
"Since 2018, many local businesses have gained the much sought-after accreditation mark, which demonstrates high standards in delivering environmental and sustainable benefits.
"To be awarded Biosphere designation is a massive deal. Galloway and Southern Ayrshire was the first region in Scotland to achieve this, and only the third in the UK, so it's something we are very proud of."
Ed Forrest, Manager of the UNESCO Biosphere said, "South Ayrshire Council and Ayrshire Roads Alliance have really led the way through using the UNESCO designation on road signage to inform communities and visitors of the region's unique international status."