South Ayrshire farmers meet with Council officials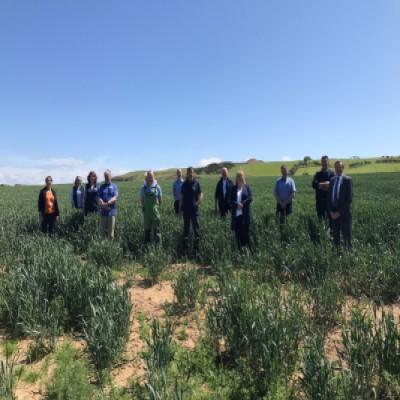 South Ayrshire farmers have met with local authority officials to show the positive response of the industry to climate change and its ability to supply fresh, tasty, sustainable, local food.
NFU Scotland South Ayrshire Branch Vice Chairman Andrew McFadzean of Dalchomie Farm, Maybole, hosted the recent meeting between local farmers and South Ayrshire councillors and officials. He has seen at first hand the effects of climate change on his beef and cropping unit. Flooding and unpredictable weather patterns have made growing wheat, barley and beans a risky business.
Andrew said: "We wanted to invite Council officials on farm to show how our production methods work hand in hand with the environment.
"With plenty of rainfall, South Ayrshire has the ideal climate for growing lush grass pastures which produce the finest and most sustainable beef, lamb and milk to the highest of welfare and environmental standards."
The on-farm meeting was also attended by Branch Chairman Alan Thom of Goosehill Farm, Maybole who was keen to highlight farmers are rising to the challenge of meeting climate change targets.
Alan said: "Farming must be seen as part of the solution, and we are already taking steps to use technology and new methods to reduce our carbon footprint, whilst continuing producing quality assured food to meet the demands of an ever-growing population."
Ayrshire Regional Manager Christine Cuthbertson commented: "Family farms are a critical part of the landscape and economy of South Ayrshire, and we must make sure that we are part of the climate change conversation.
"We discussed many issues including local procurement, educating our young citizens about farming, skills and employment and school meals. This very positive meeting is the start of a good working relationship between the council and the farming community we represent."
Councillor Peter Henderson, Leader of South Ayrshire Council said: "Farming is a key part of our economy, and we welcomed the opportunity to hear from local famers about their sustainable farming methods.
"In partnership, we are seeking to take forward initiatives in education and the greater utilisation of local produce within the Council and our communities.
"We would always encourage people, where possible, to buy their food locally. In doing so not only are they supporting local farmers but are also ensuring the food they buy is of the highest quality and better for the environment."