Inspirational panels for The Ayrshire Coastal Path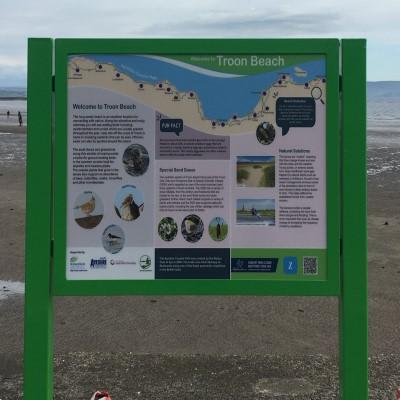 Seven new interpretation panels have been created to highlight the amazing wildlife and geology found along The Ayrshire Coastal Path, one of Scotland's Great Trails.
South Ayrshire Council in partnership with NatureScot will install the panels in key locations along the path as part of a new project called Interpreting Our Coast. The panels will help highlight some of the many species that inhabit the coastline as well as the unique geology. The panels, which will be located at Ballantrae, Lendalfoot, Girvan, Maidens, Ayr, Prestwick and Troon will also encourage responsible and sustainable behaviour.
Our beaches have proved to be a treasured resource during lockdown, providing opportunities for green/blue health and connecting with nature.
The Ayrshire Coastal Path which runs from Glenapp to Skelmorlie, has also proved to be a popular destination over the last 14 months. The path covers sites of national and international importance; four of the panels will be located within the Galloway and Southern Ayrshire UNESCO biosphere which has been recognised internationally as a world class environment for people and nature.
Councillor Ian Cochrane, Environment Portfolio Holder for South Ayrshire Council said: "Promoting nature and helping locals and visitors learn about our remarkable coastline is an important part of our efforts to support a green recovery. As we move forward, we want people to explore and connect with the environment and these panels will inspire everyone to do exactly that."
Kerry Wallace, Area Manager for NatureScot said: "The beaches and coast are home to amazing wildlife and fascinating geology. During lockdown, they have provided great opportunities for physical activity and improving mental wellbeing by connecting people and nature. These interpretation panels, and accompanying virtual resources, highlight the importance our blue and green natural spaces play in the lives of both local people and visitors".
Installation began on Monday 24 May, with the first panels going in at Prestwick, Ayr and Troon. One of the main themes for both Troon and Ayr is around the role and importance of the sand dunes for biodiversity and adaptation to climate change. Sand dunes provide a natural coastal defence against the increased storms and flooding linked to climate change. At Ayr Beach the local community were heavily involved in establishing dunes by laying down Christmas trees to help trap sand and allowing dunes to form. This method was previously used at Troon and Girvan beaches which now have an established sand dune system.