Get ready for Earth Hour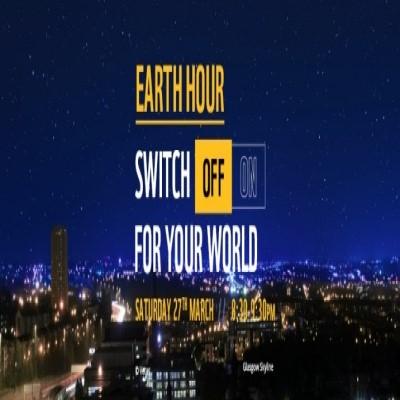 We're getting ready for Earth Hour 2021! This year the big switch off takes place on Saturday 27 March at 8:30pm local time.

Together with our partners, we have some fantastic events planned in the run up to Earth Hour. From blockbuster films and virtual workshops, to fun activities - there's something for everyone.

To find out what's happening visit www.south-ayrshire.gov.uk/earthhour

Each year hundreds of millions of people around the planet take part in WWF's Earth Hour. This global event now takes place in 154 countries across all 7 continents.

As a result of the COVID-19 pandemic, many events will be virtual this year, however this is still a great opportunity to think about what we can do in South Ayrshire to protect our environment for future generations.

As always, the culmination of Earth Hour is 60 minutes of darkness which supports people and wildlife, both here in South Ayrshire and elsewhere in the world, who are threatened by the climate and ecological crisis.

Eileen Howat, Chief Executive at South Ayrshire Council said: "Climate change is a top priority and Earth Hour provides a great opportunity to spread the word. We are putting climate change at the heart of how we deliver services, whether that's implementing our recently approved carbon budget, developing a new active travel strategy, or increasing the number of electric vehicles in our fleet.

"We will continue to support Earth Hour, and I would encourage as many people as possible to get involved and do their bit as we work together to help deliver a low carbon and climate ready future."

This is a particularly important year for climate action as the decisions made around our economic recovery from COVID-19 present a unique opportunity to build a sustainable future.

This November leaders from around the world will meet in Glasgow for the international climate conference, COP 26, to make important decisions about how we will meet our global climate change targets. With the spotlight on Scotland, the people of South Ayrshire can show climate leadership and set a good example to the rest of the world.

For more inspiration on how you can get involved with Earth Hour you can also visit the WWF website at www.wwf.org.uk/scotland/earthhour

Remember, if you are planning your own activities for Earth Hour, please follow current Scottish Government public health guidance.
Published 23 March 2021