Maybole regeneration
Information on the Maybole regeneration project.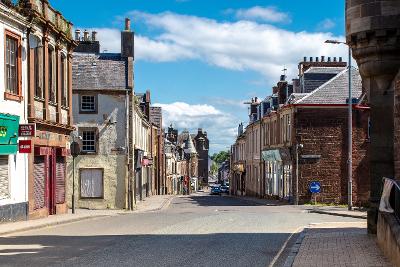 The Maybole Regeneration Project is a unique partnership between Maybole Community Council and South Ayrshire Council with a strong focus on community lead regeneration. The project is focused on delivering projects which will make the town an even better place to live, work, visit and do business.
The Maybole Regeneration Project will be achieved by working closely with the community and local businesses investing up to £7.5m over the next four years. Projects include:
Improving buildings in the town centre
Creating and improving cycling and walking routes
Developing opportunities for the community to participate and learn
Redeveloping public spaces on the High Street.
South Ayrshire Council is committed to the success of the project, investing £1,000,000 in the regeneration of Maybole.
Other partners
The Maybole Regeneration Project is being support by a number of major partners to help achieve its aspirations.
Historic Environment Scotland (HES) is Scotland's national public body set up to investigate, care for and promote Scotland rich historic environment. HES under, the Conservation Area Regeneration Scheme, is funding £1.29m to help repair, conserve and restore some of Maybole's most prominent and historic buildings.
The Heritage Lottery Fund (HLF) is the largest dedicated funder of heritage in the UK, funded by National Lottery players. HLF, through their Town Heritage fund, is supporting the project with £1.67 million to help repair and restore historic buildings in Maybole and supporting the public realm scheme.
Sustrans is the charity making it easier for people to walk and cycle creating healthier places and people and is committing £900,000 to the project. Sustrans along with South Ayrshire Council are investing in the Maybole Active Project which looks to improve walking and cycling routes as well as developing new ones into the Town Centre and to the proposed new School Campus.
The Scottish Government, through its Regenerating Capital Grant Fund is supporting the Project. This will lead to significant investment in the Town Hall, increasing usage and securing its future.
North Carrick Community Benefit Company is dedicated to improving North Carrick and is contributing £125,000 to the project.
LEADER, the EU's Rural Grant fund, has been supportive of the project. They provided grant funding, which led to the creation of a brochure to promote shop front improvements and the importance of maintaining Maybole's traditional buildings.
To find out more about the regeneration project and for the latest project updates, visit www.regeneratingmaybole.scot/