Tickets now on sale for Ballantrae Festival of Food & Drink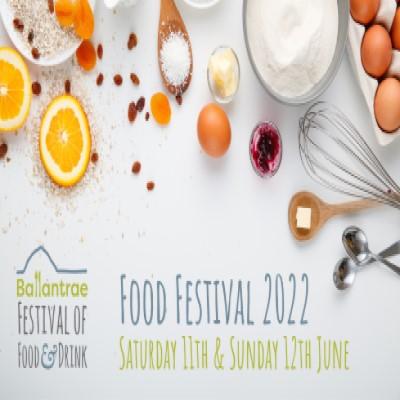 The award-winning Ballantrae Festival of Food and Drink is back as a live event this summer, supported by Galloway & Southern Ayrshire UNESCO Biosphere. Tickets are on sale now for an enticing two-day programme of chef's demos, tastings and food and drink workshops which will run alongside the traditional street market over the weekend of 11 - 12 June.
During Covid-19 the festival was held entirely online and its return to the town's historic harbour marks a welcome return for an event which has put Ballantrae on Scotland's gastronomic map. Among the confirmed attendees are some of the best-known independent eateries, producers and retailers from Scotland's south and west, including Blackthorn Salt, Five Kingdoms Brewery, and the team from Glenapp Castle. Hot food will be available from Reggaelicious, the Laird's Table and others, plus sweet treats from the likes of Girvan Gelateria and the Scottish Creamy Cheesecake Company. Chris Saunders' 'ginspirational' cocktail workshop is back, and Szymon Szyszczakiewicz, founder of the pioneering Foragerium, returns with a schedule of wild food walks. Arguably the most intriguing event is Saturday's session with Dave Alexander from the kitchens at Dunskey Estate, who will demonstrate dishes that use ox tongues, pigs' ears, sweetbreads, and livers - in chef's own words, "They're offaly good!"
Ballantrae's Biosphere connection puts sustainability on the menu too as the UNESCO-designated organisation helps the festival promote fresh and accessible produce and the value in eating locally. Since being named the region's sixth 'Biosphere Community' at the beginning of 2022, Ballantrae is spotlighted on Scotland's UNESCO Trail and residents are looking forward to welcoming international visitors in June.
Ballantrae Festival of Food and Drink has been running since 2015 and is supported by partners including Carrick Futures and the Ballantrae and Kilgallioch Community Funds. Any businesses that would like to participate in this year's event but have not yet applied are encouraged to get in touch via ballantraefestival@gmail.com.
Dr Mhairi McKenna of BFFD's organising group, says, "We are thrilled with this year's programme which has something for every age and palette. The Ballantrae Festival has a wonderful website and we're active on social media so please do book your tickets and join us online as we prepare to celebrate the best of local food and drink in a very special Biosphere Community."
To view the Ballantrae Festival of Food and Drink programme and to purchase tickets please visit www.ballantraefoodfest.com.