Good For Business - Biosphere Certification Mark scheme opens for applications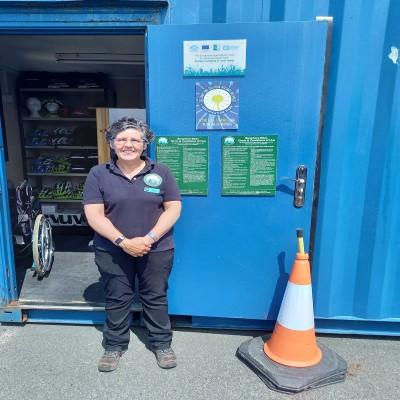 Galloway and Southern Ayrshire UNESCO Biosphere's initiative to support and promote sustainable enterprise is open for applications from 1 March 2022. Now in its fourth year, the Biosphere Certification Mark scheme is open to businesses based within the Biosphere region who fall into any of five categories: Food and Drink, Accommodation, Attractions, Businesses and Services, and Creative Industries.
While the GSA Biosphere is celebrated for its unique landscapes and wildlife, equally important are the villages and towns where independent businesses of all sizes can thrive. The Biosphere Certification Mark scheme seeks to increase understanding of what sustainability means in employment, enterprise, and the regional economy, and to build stronger connections not only between sectors but between businesses and the communities in which they are based. Businesses that achieve the Biosphere Certification Mark benefit from association with UNESCO's global brand, including through promotion on Scotland's UNESCO Trail, a unique collaboration between UNESCO sites nationwide which showcases sustainable tourism to visitors from the UK and abroad.
The designation 'UNESCO Biosphere' is currently the only internationally recognised badge for sustainability. Awarded by the United Nations Educational, Scientific and Cultural Organisation, the title denotes world class environments with singular opportunities for social and economic development. The Biosphere has a dedicated Business Development team who work closely with certification mark applicants, offering advice on sustainability as well as networking opportunities and marketing support. New for 2022 is a programme of webinars designed to help businesses tell their own 'green stories' on their websites and social media, in order to better connect with a customer base that is increasingly eco-aware.
Marie McNulty, the GSA Biosphere's Business Development lead, says, "Since the Biosphere Certification Mark was launched in 2018 we have welcomed more than thirty businesses to the scheme. We're very focused on recognising the amazing work that's already being done in the name of sustainability: the certification mark celebrates a huge amount of innovation, hard work, progress and success. This round of applications is the first of two that will be running this year and we encourage anyone interested to join our webinars or drop us an email for more information."
Councillor Alec Clark who represents South Ayrshire Council as a Board Member said: "As an elected Councillor for Girvan and South Carrick and a Board Member of the Unesco Galloway and Southern Ayrshire Biosphere on behalf of South Ayrshire Council, I am delighted to see that applications for the Biosphere Certification Mark will open on 1 March. This is a prestigious certification mark for any business to achieve and proudly display. It is also widely recognised as a mark of sustainability and eco-friendliness that will be sought out by a wide section of the population who support environmentally friendly business. Applications are open to all business large and small. Examples of local businesses who have achieved certification are Land Energy at Grangestone Estate Girvan and Lindsay Guidi's Cook School at the Richmond Hall Kirkoswald."
The business team are hosting an online event on Thursday 17 March for anyone who wants to find out more about applying for the Biosphere Certification Mark, to be followed on Thursday 7 April by a Green Stories webinar. Please email marie@gsabiosphere.org.uk for details of how to sign up.