PayByPhone parking app coming soon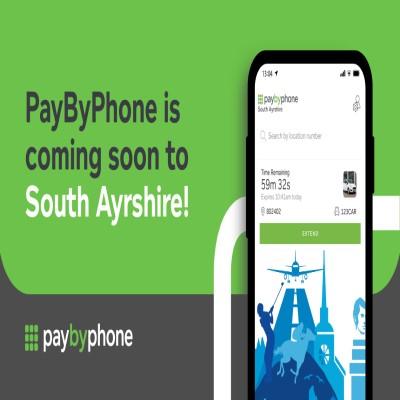 PayByPhone is coming soon to East Ayrshire and South Ayrshire; motorists will be able to use the app to pay to park on-street and in Ayrshire Roads Alliance car parks.
PayByPhone makes paying for parking easy. You don't need to keep coins aside just in case and you can extend your parking from your phone, with the app providing a live countdown. You can also opt in for smart parking reminders, an SMS message will remind you when your parking is due to expire.
It takes minutes to download the app to your smartphone and add your car registration and payment details. You also don't have to pay a convenience fee with PayByPhone so all you're paying for is your parking.
You can download the app from the Apple App Store or Google Play, pay online at http://paybyphone.co.uk or can call 0330 400 7275.
Councillor Jim McMahon, East Ayrshire Council's Cabinet Member for Community Safety, Roads and Transport and Community Cohesion said: "Paying for parking couldn't be easier with PayByPhone. It means you don't have to worry about having change in your pocket, that you can take your time once you have parked as you can extend your parking session easily on the go and you can receive a reminder before your parking expires.
"In East Ayrshire, we have had a cashless parking scheme in place for many years. The new provider PayByPhone removes the convenience fee so motorists will now just pay for parking. The new cashless provider will be up and running from Tuesday 1 February but there is nothing stopping you from downloading the app now."
Councillor Ian Cochrane, Environment Portfolio Holder for South Ayrshire Council said: "The PayByPhone app will make parking much easier for motorists in South Ayrshire. With smartphones now an integral part of our daily lives, it makes sense to introduce an app which not only reminds us when our parking is about to expire, but allows us to top it up without returning to the car. The parking machines will still take coins, but we are sure the app will become the most popular form of payment, given its flexibility and ease of use."
For more information on how to use PayByPhone, please visit www.paybyphone.co.uk/help